Back to All News
Bishop Lloyd Middle School receives National Inclusive Education Award
Posted on: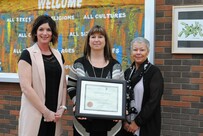 The Lloydminster Public School Division is pleased to announce that Bishop Lloyd Middle School has been chosen as a recipient of the National Inclusive Education Award.
The National Inclusive Education Award is an initiative organized by the Canadian Association for Community Living (CACL) and its Provincial and Territorial membership association. The Award for Alberta is provided jointly by CACL and Inclusion Alberta to honour a teacher, school or school district whose commitment to inclusive education is exemplary and deserving of recognition.
Bishop Lloyd Middle School was nominated by one of its parents, Stacey Andrews, for its work around creating an inclusive environment for her son, Tylan.
She wrote the following excerpt in her nomination:
"Tylan's school is a place that all students can grow, thrive in and are able to reach their potential. Shawn (Larson) and Deb (Kruchkowski), (principal and vice-principal, respectively, at Bishop Lloyd Middle School) have set a high expectation of their staff to ensure all students are included and included well. In Deb's words, "That (inclusion) is what we do here." We thank the Bishop Lloyd family for believing in Tylan and embracing our wishes and vision of him having an inclusive life."
Kruchkowski said the school was surprised to receive the award. She added this recognition meant a lot to the Bishop Lloyd family.
"To us as a school, it means the work we've done around making sure all people in our building feel they belong and are valued is now both appreciated and understood," she said. "Working together with our staff, students, families and community ensures the right things are being done for kids."