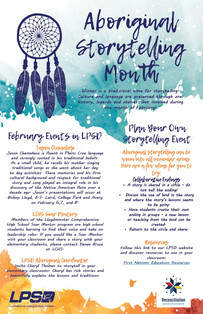 At LPSD, February is Aboriginal Storytelling Month, where we celebrate the art of storytelling in First Nations culture.
To kick off the month, flutist Jason Chamakese is visiting Avery Outreach School, Lloydminster Comprehensive High School (LCHS), Bishop Lloyd Middle School, E.S. Laird Middle School, and College Park School this week to share his stories and music.
Chamakese is fluent in Plains Cree language and strongly rooted in his traditional beliefs. As a small child, he recalls his mother singing traditional songs as she went about her day to day activities. These memories and his firm cultural background and respect for traditional story and song played an integral role in his discovery of the Native American flute over a decade ago.
LPSD is also having Soar Mentors from LCHS visit classrooms. The Soar Mentor program are high school students learning to find their voice and take on leadership roles'.
Additionally, we have Aboriginal Coordinator, Cheryl Thomas available to visit elementary classrooms and share her rich stories, lessons, and traditions with students.
Get involved this February!
Flutist, Jason Chamakese