Back to All News
Director of Education to speak about Strengths Based Parenting
Posted on: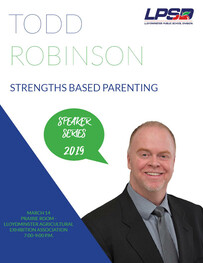 Our 2019 Speaker Series continues with our Director of Education, Todd Robinson conducting a workshop titled "Strengths Based Parenting." 
"All children have specific talents and strengths that make them uniques and full of potential," said Robinson. "As a parent, knowing your child's strengths and understanding how those strengths influence your child's processing and view of the world is a gift that allows us to parent based on potential."
What to expect:
• The background and understanding of how to identify, validate and parent based on your child's strengths.
• How to identify your own strengths and begin down your own path of personal development.
Robinson is also a Gallup Professional Coach and Instructor so expect to learn lots and have fun! The workshop will take place in the Prairie Room at the Lloydminster Agricultural Exhibition Association on Thursday, March 14 from 7:00 to 9:00 p.m.