Back to All News
February proclaimed as Aboriginal Storytelling Month
Posted on: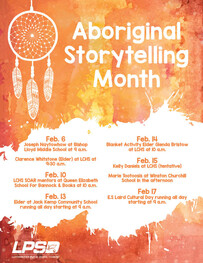 During the regular City Council meeting on Jan. 30, the City of Lloydminster proclaimed February as Aboriginal Storytelling Month.
Denae Bruce, Indigenous Coordinator and Student Success Teacher at the Lloydminster Comprehensive High School, said it was an honour to have Aboriginal Storytelling Month officially proclaimed in the Border City.
"Storytelling is part of who we are as people; it is a gift," she said. "Stories vary from region to region and are used to teach about the ways of life, but they all fall back to the same seven fundamental teachings: love, courage, respect, honesty, humility, truth and wisdom."
By celebrating Aboriginal Storytelling Month, we are joining with our Indigenous students to share the rich traditions of Indigenous people with Lloydminster residents and our families. During this month-long celebration, we will be hosting events in our schools, including sharing traditional stories, Indigenous literature, cultural teachings and other traditional activities.