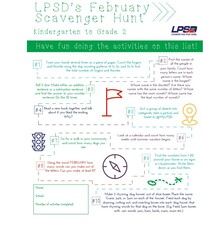 We are continuing our literacy and numeracy initiative this year by providing students with a fun way to keep up their learning during the February break.
From Feb. 18 to 24, students in Kindergarten to Grade 6 will be provided with a scavenger hunt sheet that they can use to cross off activities as they complete them. While completing each of these activities make sure to post photos and use the hashtags #MyLPSD and #LPSDReads so we can follow along.
There are two versions of the scavenger hunt sheets, one for Kindergarten to Grade 2 and Grades 3 to 6. They will be handed out by teachers in each school.
On Monday, Feb. 25 students can return their scavenger hunt sheet to their school and win prizes!