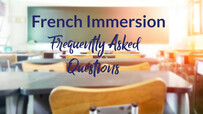 The Lloydminster Public School Division is proposing that Barr Colony School become a dual track school that offers French Immersion starting in September 2020 for Kindergarten to Grade 2 students.
How will French Immersion benefit my child?
greater range of post-secondary and career options enabled
enhanced reading comprehension and writing proficiency in both languages, as well as overall communication skills
enhanced ability to learn multiple languages and exposure to additional culture
completion of high school with a bilingual diploma
Can I support my child even if I don't speak French?
Many parents of French Immersion children have little or no French language skills. Teachers foster students language learning at school while parents can support their child's learning at home by:
having your child read to you in both languages
offering French resources to your child such as websites, library resources, etc.
building your child's confidence to tackle new challenges by recognizing your child's accomplishments 
volunteering in your child's classroom
asking your child what he or she learned that day
exploring language opportunities for yourself to learn French either online or in person
How do I know if my child(ren) is a good fit for French Immersion or is doing well once in the program French Immersion?
If your child is curious, has the desire and commitment to learning French they will likely do well. Similar to our current Kindergarten classes the teacher and the school will keep parents informed by way of report cards, teacher-parent conferences, online forums, etc. 
Will my child learn the same things as students in English classes? 
Yes, the curriculum is created by the Ministry of Saskatchewan. Students work toward the same academic goals regardless of the language of instruction.
When do students start to learn reading and writing in English?
Once some fluency in French is well established, students are ready to begin studying English language arts. In French Immersion, this occurs in Grade 2 or Grade 3. The children will usually learn to read in French first and will transfer their skills to their first language.
Will French Immersion affect my child's social development?
Studies have shown that immersion students suffer no intellectual, emotional, or social harm. They may associate more with their French Immersion classmates, however, outside of school activities they interact with their friends and neighbours.
Will my son or daughter be bilingual once they leave the program?
The goal of French Immersion is to achieve functional bilingualism. However, it is essential for students to work on French through high school to achieve fluency in French for career or personal reasons.
How do young children learn French?
They learn by speaking, the same way toddlers do. They will learn in stages by first listening than speaking. Kindergarten teachers increase the amount of French they use as the year progresses until it becomes the main language in the classroom.
Will my child's English language skills suffer?
There may be an initial lag of English language development in the early years, however, French Immersion students are able to reach the same skill level as their peers by Grade 5 and often surpass them.
Will my child(ren) have bussing available?
Bussing will be provided to families who live within the city limits of Lloydminster. LPSD is still working with Buffalo Trails and Northwest School Divisions to see if we can work on providing bussing to rural families.
Will you be offering French Immersion past Grade 2?
LPSD's intent is to continue to offer French through the grades so that students will have the opportunity to continue with French Immersion into High School.
Ready to register?
Download the form here. Once the form is completed please return to Barr Colony School or the LPSD Division Office by Friday, December 6.