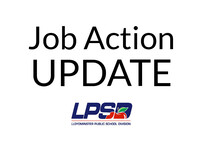 The Saskatchewan Teachers Federation (STF) and the Saskatchewan Government have been working on a new collective agreement. We wish to share information regarding the recent announcement of labour sanctions that were approved by a vote of teachers in the Saskatchewan Teachers Federation (STF).
The STF informed Boards of Education this morning that sanctions will be imposed beginning Thursday, March 12th. These sanctions include the following:
Teachers shall report to school and provide professional services no more than 15 minutes prior to the start of the school day and not later than 15 minutes after the conclusion of the school day.
Teachers will continue to provide student supervision during recess and during lunch.
Teachers will not provide any voluntary or extracurricular services.
For LPSD, this means:
All extra-curricular and voluntary activities are canceled until further notice, effective Thursday, March 12, 2020.
All buses will run as scheduled and supervision will be provided by non-teaching staff before and after school, as per the existing school schedules.
There will be no changes to Lunch Supervision practices at this time.
Our teachers will need to respect the instructions of their Provincial Federation, just as we respect how the Provincial process must unfold. Despite these sanctions, we value our teachers and look forward to a resolution.
Lloydminster Public School Division prides itself on ensuring personal excellence for all students. We hope for your understanding and trust as we navigate through this process. I can assure you that our team will continue to prioritize your children and their education.
We will continue to keep you updated as we have more information. If you have questions, we invite you to contact us at our Division office.