Back to All News
Junior Kindergarten and Prekindergarten Registration Now Open
Posted on: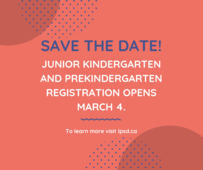 Registration for both Junior Kindergarten and Prekindergarten programs opens Monday, March 4.
Junior Kindergarten serves children who are 4-years-old by the end of December and live within the LPSD attendance boundaries. There is no cost to enroll in the program, but families will be asked to arrange transportation to the program.
To register, completed LPSD Student Registration Forms can be submitted to Barr Colony School starting on March 4. 
Prekindergarten is for children who are ages 3 and 4 and meet the criteria set out by the Ministry of Education. 
For more information on our Early Years Programming please click here.