Literacy Bingo returns to encourage learning during November break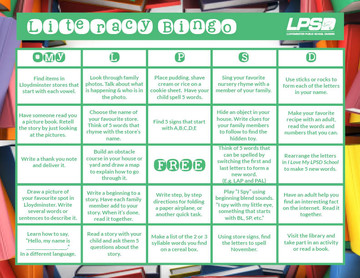 In all of our schools literacy is one of our key priorities. In order to continue and encourage learning during the November break from 12-18, we are bringing back our literacy initiative for Grade 1-3 students. 
Literacy Bingo will see each student in Grades 1, 2 and 3 being provided a bingo card. As students complete each activity they will mark or cross off a box on the card. We encourage students to post photos of each completed activity on social media using the hashtags #MyLPSD and #LPSDReads. 
On Monday, Nov. 19 students can return their bingo card to their schools to win prizes.
Here's how the prizes work:
1. Complete full card: 
Entry into a draw for a $50 gift card (One draw per school)
A book
A prize from a literacy chest
2. At least one completed line:
Entry into a draw for a $25 gift card (One draw per school)
A prize from a literacy chest