Back to All News
LPSD announces new Board of Education Chair and Vice-Chair
Posted on: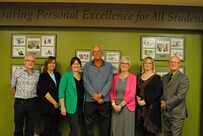 Karoline Kennedy has been named the new Chair of the Lloydminster Public School Division's Board of Education during an organizational Board meeting on Wednesday evening.
Kennedy has served on the Lloydminster Public School Division's (LPSD) Board of Education since 2008 and previously held the title of Vice-Chair. She has recently completed a four-year term as Secretary-Treasurer for the Public Schools of Saskatchewan.
"I am honoured to be chosen by my fellow Trustees to take on this new role and I am looking forward to this opportunity to serve the Board, School Division and community as a whole," says Kennedy. "I value public education because it is the great equalizer among people. I believe it allows everyone to reach their full potential."
Kennedy holds a Bachelor of Commerce degree from the University of Saskatchewan and is a Chartered Professional Accountant (C.A.). Currently, Kennedy and her husband operate a small business in Lloydminster.
In the same organizational meeting, Cathy Cornet has been elected as the new Vice-Chair of the Board. Cornet has been on the LPSD Board of Education since 2009 and enjoys it immensely.
"I am very honoured and excited to be elected as Vice-Chair of the LPSD Board of Education. We have a great team of Trustees and Administration around our Board table that I am lucky to continue to work with in this new capacity," says Cathy. "I look forward to continuing to be a voice of advocacy for our students and staff as we continue to be a leading School Division in Saskatchewan and Alberta."
LPSD is governed by an elected seven-member Board of Education, which is responsible for the development of strategic directions, goals, and policies to guide the provision of educational services.