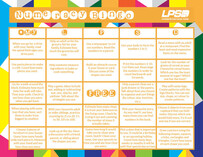 As numeracy is a major focus for the Lloydminster Public School Division, we're looking to provide students a fun way to continue their learning during the November break (Nov. 11-15).
How to play:
Each student in Grades 1 to 3 will be provided a bingo card. Mark or cross off the activities that you complete on the bingo card and be sure to post photos while completing these activities with the hashtags #MyLPSD and #LPSDlearns. On Monday, Nov. 18, students can return their bingo cards to their school to win prizes!
Download the bingo card here.
To learn more about LPSD's reading, writing and math priority click here.