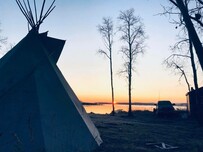 As part of the Lloydminster Public School Division's (LPSD) First Nations, Métis, and Inuit (FNMI) strategic priority, a Culture Camp was held for middle school students in Onion Lake earlier this month. Approximately 70 students from Bishop Lloyd Middle School (BLMS), E.S. Laird Middle School (ELS), and College Park School participated in Indigenous cultural experiences.
"Culture Camp is an opportunity for students to take part in traditional teachings in an authentic way. It allows us to get onto the land, learn from the land and learn from people on the land," said Derek Hyland, Grade 8 Teacher at BLMS.
Students spent two nights and three days at the camp learning how to build a fire, canoeing, survival skills such as orienteering, building shelter, snarring and trapping animals and cleaning and cooking meat. 
Another perk of the camp was the lack of internet access, which allowed students to focus solely on the camp. "There is no cell phone reception up there and so we can disconnect from the internet and reconnect with ourselves and with each other and with nature," said Hyland.
Grade 9 student at ESL, Cody Hillis' is participating in the camp for a second time. "I think it's important to experience this because people can learn about the Cree culture and it's an experience that they might not be able to get otherwise," she said.
This is the third year the camp has run in LPSD after starting at ESL in its first year and now expanding to neighbouring schools in Lloyd Public.
"With the youth, especially in LPSD, a majority of them have identified as having a First Nations background so identity plays a big part in that. When we talk about identity we're also talking about closing the gap between communities such as Onion Lake and Lloydminster," said Sandy Chocan, Grade 8 Teacher at ESL.
LPSD's FNMI strategic priority is designed to educate students and staff on First Nations, Métis and Inuit cultures, histories, contributions, and worldviews.
"In order to understand the cultures of each distinct Indigenous people, there needs to be exposure of cultural teachings to students and staff. There must be an education on the hidden history of events that explain how each affected, not only Indigenous people but all Canadians in today's society," said Clint Chocan, LPSD Coordinator of Learning and Instruction.