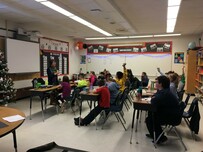 Knowledge keepers, elders, and educators have been coming into Lloydminster Public schools for the last month to share information about the Indigenous culture. In November of 2019, Lloydminster Public School Division (LPSD) launched the FNMI (First Nations, Métis, and Inuit) Resource Program to further in our path of reconciliation and continue to educate students on the different aspects of Indigenous culture.
"We discuss everything from Indigenous worldview, which is the definition of spirituality and the Indigenous perspective, values and beliefs, protocols, history, contributions, and reconciliation," says Clint Chocan, Coordinator of Learning and Instruction for LPSD.
The program brings in resource people from the surrounding Indigenous communities such as Onion Lake to give students a more hands-on approach to learning. Chocan says the goal of the program is reconciliation.
"In order to understand reconciliation you need to understand the people that are involved. Since there is understanding on one side of the way society works you need the understanding of the other side of how that culture works."
November 18 is when the program officially started and it will continue into May for the 2019-2020 school year. The program aims to have presentations at all ten LPSD schools every week, which equals two schools per day with a resource person coming into each school once a week.
The program is designed for students from Grade 1 to Grade 12. Chocan says with the program students will receive a better understanding as to what Indigenous cultures had to endure when they integrated into Canadian society.
"If you do not have the understanding of Indigenous culture you won't understand what adaptions have to be made in order to function or be accepted in Canadian society."
At LPSD, First Nations education is one of five strategic priorities and LPSD is committed to answering the Calls to Action of the Truth and Reconciliation Commission that pertain to education.
"With awareness comes understanding. With understanding comes acceptance. With acceptance comes unity," says Chocan.