Back to All News
LPSD Students Benefit From $25,000 CNRL Donation to Health Foundation
Posted on: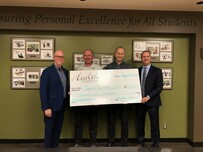 A $25,000 cheque from Canadian Natural Resources Limited (CNRL) will benefit wellness programming in the Lloydminster Public School Division (LPSD). On Wednesday, a cheque was presented to the Lloydminster Region Health Foundation's mental health initiative, Project Sunrise in an effort to support youth in the community.
"We are very excited to work together with community partners, Lloydminster Region Health Foundation and CNRL to focus on the wellness of our students. In LPSD we place a strong emphasis on student and staff wellness. We believe it is important to give our students tools to help them become healthier and more resilient as they work toward their future," said Brent Thomas, Superintendent of Education.
Project Sunrise started in 2014 as a way to develop better mental health services in the Lloydminster community through funding education of healthcare professionals, in-school programs and more. The donation on behalf of Project Sunrise will go towards funding two LPSD programs that will support student wellness. The first being a brand new initiative called Kids Have Stress Too, which is a curriculum resource for students in Kindergarten to Grade 9.
"Kids Have Stress Too is a program that helps parents, children, and educators understand childhood stress and provides children the tools they need to deal with stress more effectively. Students build knowledge, awareness, and skills to navigate stress and build resiliency," said Thomas.
The second program titled Strengths has already been implemented into our school and will continue to grow benefiting students in Grades 7 to 12. Thomas said the program provides students with an opportunity to understand their talents and develop these talents into strengths in an effort to help students build confidence, productivity, and engagement.
"This is a great opportunity to work with the youth in our community on bringing awareness to mental health and teaching them tools to maintain their mental health throughout their lives," said Malcolm Radke, CEO of the Health Foundation.