Back to All News
LPSD Tech Force Students Share Knowledge with Lakeland College
Posted on: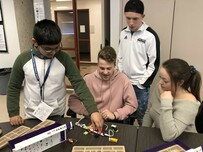 LPSD Tech Force students have graduated to instructors as they taught Lakeland College students the ins and outs of robotics and technology. 
Winston Churchill School's Tech Force club visited the college's university transfer students in the bachelor of education stream on Wednesday to demonstrate the importance of computer science in education at all levels.
"We got to come teach other people tech and it's something that we enjoy," said Grade 6 student Easton Dolan. Each student was in charge of a station that had an activity taking place such as programmable robots.
Grade 6 student Abdullah Nasir was instructing the littleBits station, which involves building electronic circuits. "I like littleBits because first of all, you can dim the circuits. It's not just doing one thing, you can do multiple things at once and it's very intriguing."
Through the Tech Force club, students learn pattern recognition, abstraction, logical and sequential thinking, critical thinking, problem solving and creativity. The club is in 7 of our 10 schools including all elementary schools, College Park School and Bishop Lloyd Middle School.
"It is fun going to other kids class, teaching them and letting your creativity burst," said Dolan.