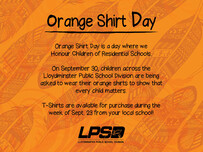 Children of residential schools are honoured annually on Orange Shirt Day. The campaign's slogan - Every Child Matters - loosely translates to Kiceyitakosiwak Awasisak in Cree, which means Children Are Sacred.
As part of First Nations culture, childhood is the foundation of our journey through life. Building a strong foundation is vital to the development of the person they will become. The translation of Children Are Sacred honours the Cree holistic value that everything in life is sacred.
Orange Shirt Day began to help spread awareness for children who attended residential schools. The orange shirt symbolizes these children having their identities stripped away. LPSD schools will be celebrating the culture and honouring the history through display presentations at each school starting the week of Sept. 23. 
Monday, Sept. 23 - Queen Elizabeth School and Winston Churchill School
Tuesday, Sept. 24 - Barr Colony School and Jack Kemp Community School
Wednesday, Sept. 25 - Rendell Park Elementary School and College Park School
Thursday, Sept. 26 - Bishop Lloyd Middle School
Friday, Sept. 27 - E.S. Laird Middle School 
Monday, Sept. 30 - Lloydminster Comprehensive School and Avery Outreach School
To reinforce that Every Child Matters, students can purchase their own orange shirt on the same day as the displays at their local school. This year's version of the orange shirt is $10 and last year's version is $2. Please wear your orange shirt on Monday, Sept. 30.