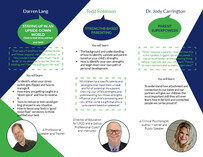 Starting in the new year, LPSD will be hosting a Speaker Series focused on wellness. Three presenters will tackle various topics from parenting to stress. 
On January 17th, Darren Lang will be presenting "Staying up in an upside-down world (Tools to beat stress and feel your best)." We will have our own Director of Education, Todd Robinson speaking on March 14 about "Strengths based parenting." Dr. Jody Carrignton will close out our speaker series on May 8 talking about "Parent superpowers."
Consider this your official invitation to join us at each of these sessions. They will all be taking place in the Prairie Room at the Lloydminster Agricultural Exhibition Association from 7:00 to 9:00 p.m.