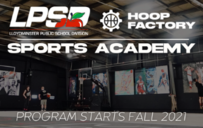 LPSD is pleased to announce its Sports Academy beginning in September 2021!
It is our goal with the Hoop Factory Sports Academy to enrich the Lloydminster and surrounding communities with new sport educational opportunities, not found anywhere else in Saskatchewan/Alberta. The Sports Academy will provide students from Grades 5-8 from across the division the opportunity to participate in an enhanced physical education program focusing on the skills and gameplay associated with Volleyball, Basketball, Badminton, and Track & Field. 
Sports Academy's goal is to foster a love of physical activity and sport in our athletes.
We hope to build confidence and resiliency through sport.
This program will be open to any skill level as athletes will be provided with skill development, mental preparation, and sport for life skills.
With a diligent, well-thought-out plan that is athlete-centered, we believe the LPSD and Hoop Factory partnership will offer sport-based programming found nowhere else.
The LPSD Sports Academy Program is opening registrations for the 2021-22 school year on Tuesday, April 13, 2021. 
With limited spots (70), we anticipate the program will fill up quickly.
Find out more about the program here.