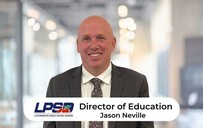 LPSD Appointed Jason Neville As New Director of Education
Monday, August 8, 2022
The Lloydminster Public School Division is pleased to welcome Jason Neville as the new Director of Education to kick off the new school year. 
On May 3, 2022, Jason Neville accepted the position as Director of Education for the Lloydminster Public School Divison and assumed responsibilities on August 1, 2022. An experienced educator and leader, Jason will succeed Scott Wouters and Todd Robinson.
" Jason will bring a fresh perspective and new leadership qualities to the Division Office; this, coupled with leveraging the experience of the current LPSD team, will only enhance Public Education in our community," said LPSD Board Chair David Thompson.
Mr. Neville joins LPSD from the Horizon School Division, where he held the Superintendent of Student Supports position. During his tenure, he led the implementation of violent risk protocols and mental health frameworks in schools. His role as superintendent had him working as a leader and team member on a Division and Provincial level while also actively supporting school-based administration.  Jason has held principal and vice-principalships and began his career as a classroom teacher. 
Jason Neville received his Bachelor of Education from the University of Saskatchewan and a Master of Educational Studies from the University of Alberta. 
Jason shared, "I am looking forward to working with the Board of Education in Lloydminster Public School Division. I know the division already has a strong senior leadership team and excellent teaching and support staff, and I look forward to what lies ahead!"
Jason moved to Lloydminster from Humboldt, Saskatchewan, where he lived with his wife and two daughters. While in Humboldt, he played an active role in the sports community affiliated with both hockey and volleyball teams.
"The Board looks forward to working with Jason as we review Division priorities and forge a path forward to meet the changing learning needs of our students while addressing new fiscal realities," shared Board Chair David Thompson.
The Board of Education is confident that Jason Neville will continue to uphold LPSD's mission and Ensure Personal Excellence for all students and staff.