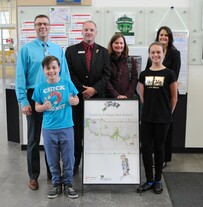 In partnership with the City of Lloydminster and Lloydminster In Motion, the Lloydminster Public School Division will be showcasing signage that has been installed along the trail system surrounding College Park School. These signs showcase where walking paths, linking sidewalks, roadways, parks and green spaces, and controlled crossings are located.
College Park School Principal David McLennan said the signs help promote active, safe and accessible means to travel to and from school.
"Many of our students use the trail system to travel between College Park School and their homes, whether they're using scooters or bikes or even walking," McLennan said. "It's been a great partnership working with City of Lloydminster and Lloydminster In Motion to promote safe and active lifestyles for our students and the greater community."
Lloydminster In Motion's Bonita Brick echoed McLennan's comments, saying the signs were designed with the school as the destination.
"They show how people within the areas surrounding College Park School can use the trail system to get to the school and the surrounding green space," Brick said. "We were really pleased that we were able to work with both College Park School and the City of Lloydminster to have these trail signs put up."
The signs were installed after a safe travel planning project, which included school-based surveys, traffic counts and more. Other schools throughout the community are also taking part in similar projects. Findings and signage will look different for each depending on what the specific needs of that school community are.
On June 7, a walk through will be taking place at Winston Churchill School as part of a similar process.