Back to All News
Q & A with Lloyd Public's New School Resource Officer
Posted on: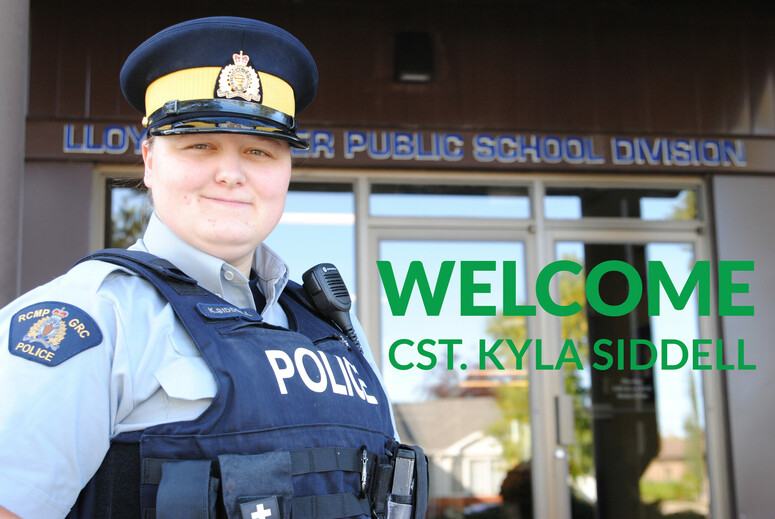 The Lloydminster Public School Division has a new School Resource Officer (SRO) for the 2019-2020 school year. Constable Kyla Siddell of the Lloydminster RCMP is joining our team in a position created last year in partnership with the City of Lloydminster, Lloydminster RCMP, Lloydminster Catholic School Division, and Lloydminster Region Health Foundation.
Tell me a little bit about yourself?
I've been an RCMP officer here in Lloydminster for three years. This is my first posting with the RCMP and I've been doing general duty the whole time. I have been wanting to work with kids and I've done a few volunteer presentations with Constable Michael Hagel, which has opened my eyes to wanting to do this position. I'm really looking forward to having this opportunity.
What is your goal as the new SRO?
My goal is to really connect with the kids. A lot of kids have an opinion about police officers or perception about us already. My goal is to show them how approachable police officers are and that I am a safe person they can go to if they need help.
Where did you grow up?
I grew up in Spruce Grove, Alberta in an RCMP family and stayed there all my life until I move to the Caribbean for two years.
What did you want to be when you grew up?
I always wanted to be an RCMP officer mainly because my father was one and I saw the impact he had on the community. My father was able to have a positive outreach with the community because he also did an SRO position.
Do you actually like donuts? If so what kind?
Who doesn't like donuts? The main reason that became a thing is because the coffee shops were the only place open 24 hours a day. My favourite kind, I know this is boring, is the old fashioned plain. It's a classic and you can't go wrong with that.
Who was your favourite teacher? Why?
From preschool to Grade 3, I was in a Christian school in Spruce Grove. Then from Grade 4 and beyond I was homeschooled so if I don't say my mom I think I would get in trouble.
If you could travel anywhere, where would you go?
I would love to travel to Asia and that's because of the scuba diving there. It is supposedly spectacular. Also, Australia would be amazing because they have the Great Barrier Reef.
What's the best piece of advice you have received?
If you have a dream go for it. If you have a dream job that you want to do, no matter how difficult it is, you got to push yourself to do it. It's hard sometimes and you have to go through a lot of tribulation, but it's good in the end and you'll be happy.
Describe yourself in three words?
Integral, outgoing and adventurous.
Tim Hortons or Starbucks?
Can I say McDonald's? I like McDonald's coffee better because it's the old Tim Horton's supplier.  
If you could speak another language what would it be?
Spanish because I already know a little bit of it.
What are you most looking forward to in your new role?
I'm looking forward to the new challenges that a different role will present me with because there's a lot of learning behind this. I also love teaching and that's something I am looking forward to, as well as working with students.
If you have any questions for Cst. Kyla, please email her at kyla.siddell@rcmp-grc.gc.ca.