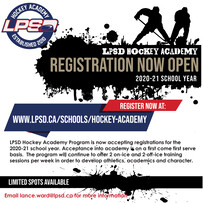 LPSD Hockey Academy program is now accepting registration forms for the 2020-2021 school year. The program offers two on ice and two off-ice sessions per week in order to develop athletics, academics, and character. 
The program has been an important part of LPSD's offerings for the last 10 years. Helping students engage in their schoolwork while pursuing athletic goals is a proven model that we are proud to offer within our division. The current economic situation in our community does affect our program moving forward and we would like to help out as much possible.
We are working diligently to lower the cost of the program for 2020-2021. We can not currently confirm what tuition will be for the next year, as we are hopeful to make the program more affordable and accessible to families that would like to register their child.
Please register online here. To learn more about the program visit our Hockey Academy page.