Back to All News
Registration for prekindergarten and junior kindergarten are open
Posted on: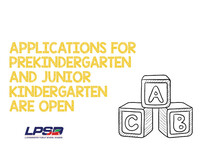 Schools may be closed but Lloydminster Public is open for prekindergarten and junior kindergarten registration.
Prekindergarten
Prekindergarten focuses on the development of the whole child - social, emotional, physical, intellectual, and spiritual development. Children are provided with opportunities to develop language and social skills through active learning and play. Daily activities are child-centered, choice-driven, and language-rich.
In Lloydminster Public School Division, prekindergarten classes are held Mondays through Thursdays for two and a half hours. Children must be 3 by the end of September to be eligible. To apply please complete the registration form and email it to prekindergarten@lpsd.ca by May 15, 2020.
For more information on prekindergarten at LPSD visit lpsd.ca/schools/pre-k-and-kindergarten.
Junior Kindergarten
Junior kindergarten offers learning, language, experiential, and play opportunities based on the philosophy of prekindergarten and best practices for early learning. Children who are 4-years-old by the end of December are eligible to apply.
Effective 2020, the fee for junior kindergarten is $100 per month, which includes all class time and supplies. Please fill out both the school registration form and the junior kindergarten student information form. The school registration form is specific to Barr Colony school and will be submitted automatically upon filling it out and hitting submit. The junior kindergarten student information form is to be filled out and submitted by email to diane.yahnke@lpsd.ca. We look forward to welcoming students to junior kindergarten when schools reopen.
For more information on junior kindergarten at LPSD visit, lpsd.ca/schools/pre-k-and-kindergarten.