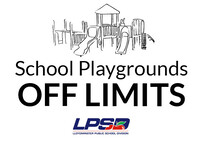 Public access to playground equipment on all LPSD school properties will be suspended effective Thursday, March 26 as a preventative measure to COVID-19.
We understand that this is a difficult time, however, this is a necessary step to assist the ongoing efforts to help reduce the spread of COVID-19.
Suspending public access to playground equipment will limit the number of available touchpoints, such as the hard surfaces of playground equipment, which are not always cleaned and sanitized after every use.
While the green space around playgrounds, such as soccer fields and walking trails, remain open, community members are strongly urged to practice social distancing.
For LPSD's response to COVID-19 visit here.