Back to All News
Students continue to learn during February's literacy and numeracy initiative
Posted on: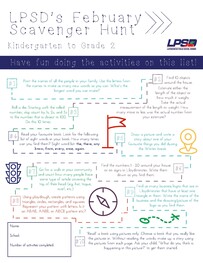 This year, the Lloydminster Public School Division's key focuses are literacy and numeracy. Therefore, we have once again brought back February's Scavenger Hunt.
During the February break (Feb. 17 to 21) students in Kindergarten to Grade 6 can participate in a scavenger hunt focusing on their literacy and numeracy skills. While completing the activities we encourage students to post photos and use the hashtags #MyLPSD and #LPSDReads so we can follow along.
Students will receive their scavenger hunt sheets from their school. If required, parents can download the sheets below:
Kindergarten to Grade 2 Scavenger Hunt Sheet
Grade 3 to 6 Scavenger Hunt Sheet
Students can return their completed sheets after the break to receive prizes from their school. To learn more about our priorities click here.