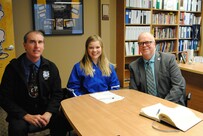 It's the season for friends, family and festivities. But for many of our schools, it is also the season to serve.
If you haven't visited the social media platforms of our schools lately, I would suggest you take a peek. Whether it's our high school students collecting toys and money for the Interval Home through Rudolph's Roundup, or a young student from Rendell Park Elementary School donating a Christmas tree to a family in need, our students are serving our community.
Those are just examples from two schools I have seen over the past couple of days and I'm sure there are more instances that have happened and will continue to happen as we move through December and into the new year.
Seeing our students go above and beyond to serve their community makes me very proud.  It is the season where so many need so much and our students are rising to the challenge.
Last week I was honored to host the Principal for a day from Bishop Lloyd Middle School.  Devyn Hagarth, dropped in to have lunch and discuss some of the concerns that her class had brainstormed.  Devyn did an awesome job of representing Bishop Lloyd and even left me with some homework that I need to complete before I stop by and close the loop with her and her class.