Interested in Sports Academy? 
Contact Academy Director, Lance Ward at sports.academy@lpsd.ca for more information!
It is our goal with the LPSD and Hoop Factory Sports Academy to enrich the Lloydminster and surrounding communities with new sport educational opportunities, not found anywhere else in Saskatchewan/Alberta. The Sports Academy will provide students from Grades 5-8 from across the division the opportunity to participate in an enhanced physical education program focusing on the skills and gameplay associated with Volleyball, Basketball, Badminton, and Track & Field. 
Sports Academy's goal is to foster a love of physical activity and sport in our athletes.
We hope to build confidence and resiliency through sport.
This program will be open to any skill level as athletes will be provided with skill development, mental preparation, and sport for life skills.
With a diligent, well-thought-out plan that is athlete-centered, we believe the LPSD and Hoop Factory partnership will offer sport-based programming found nowhere else.
The LPSD Sports Academy Program is opening applications for the 2022-23 school year on Monday, April 11, 2022. 
With limited spots, we anticipate the program will fill up quickly.
Questions
For further information please call (780) 875-5541
or Contact Chris King - Lead instructor at chris@goldenticketsports.com
Review the LPSD and Hoop Factory Information Overview Package and check out our Brochure.
Hoop Factory, and its coaches are committed to bringing a first class program, from concept, to action to breathe new life into our sporting community and stoke a growing desire for more sport opportunities within our area.
Online Application
Applications open Monday, April 11, 2022
Chris King - Lead Instructor BIO
Chris King - Lead Instructor
Coach King is entering his 13th year as Head Coach of the Rustlers. 

Last season, King guided the Rustlers to a 19-5 regular-season mark, finishing 2nd in the ACAC North Division. The team would go on to win the ACAC Championships, the first Gold medal in Rustlers  Basketball history. Coach King was also awarded ACAC Coach of the Year for his team's accomplishments last season. This is the fourth time he has received this award as he previously won it in  2014-2015, 2015-2016, 2017-2018. He was also named CCAA Coach of the Year Nominee in 2014-2015, 2015-2016. 

Under King's leadership, the Rustlers have made ten straight post-season appearances and are coming off their ninth consecutive .500 or better season. Over the past six seasons, the Rustlers have accumulated a record of 110-34 in ACAC League play.

In his tenure at Lakeland, King has had nineteen players receive ACAC All-Conference Awards, an ACAC Rookie of the Year Award, an ACAC Player of the Year, and a CCAA All –Canadian. He has also had eight players move on to CIS teams. 

Coach King served as an assistant coach for the Team Saskatchewan U15 men's developmental team during summer 2018.  He has also served as a coach for Team Alberta, an assistant coach in 2013 with the fourth place U17 Canada Games team, and as the head coach of the U16 program placing third in the Western Canadian Championship in 2012. He also spends time running an assortment of community basketball camps throughout the year and has worked with several coaches and programs in an effort to improve player development at all ages.  
Coach King is also the Co-Owner of Golden Ticket Sports, which is a relationship-based company that specializes in player, coach, official, and multi-sport events. King grew up in Kitscoty AB, he played two years for the Lakeland College Rustlers winning an ACAC silver medal under former men's coach, Phil Allen. After Lakeland, he transferred and played for the Pronghorns at the University of Lethbridge. 

King lives in Lloydminster with his wife Courtney, daughter Macy, and son Nash. He enjoys being able to give back to a community that presented him with so many opportunities for him as a young and aspiring athlete.
Elite Coaches:
Rana Bazazo - Basketball Program Lead
Lebanon Pro League Coach
Masters in Coaching Lepzig University
Volleyball, and Track & Field coaches to be announced.
Hoop Factory HAS RECRUITED PROFESSIONAL YOUTH COACHES TO RUN THIS PROGRAM. BRINGING INTERNATIONAL COACHES, WITH INCREDIBLE RESUMES TO LLOYDMINSTER in addition to local high performance coaches.
Austin Dyer - Sports Academy Teacher BIO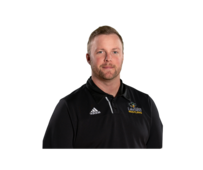 Austin Dyer is currently a half-time teacher at ES Laird Middle School. He has been teaching for the LPSD for the past 13 years. Austin is currently the athletic director at the school and teaches predominantly Physical Education. Austin helped create and taught the grade 9 Advance Physical Education option. This was a class that allowed the students to choose to be part of a Physical Education class with a group of like-minded students who wanted to be competitive. While at ES Laird Middle School, Austin has helped coach Badminton, Track & Field, and Golf.
Coach Dyer is an NCCP fully certified level 3 performance and advanced developmental coach.
He holds bachelor degrees in Kinesiology and Education. He also has his Masters of Education in Coaching Studies. He is heading into his 13th year running the Rustlers Women's Volleyball Program. During his tenure with the Rustlers, his teams have qualified for conference championships every year. 
Kelci Little - Sports Academy Teacher BIO
Kelci Little has taught grades 10-12 English Language Arts at LCHS for the past five years. While ELA has been at the forefront of her job, athletics is another great passion of hers. Kelci was a multi-sport athlete throughout school and believes that sports build character and teach life-long skills; as a result, she is committed to sharing those lessons with students. Kelci continues to participate in recreational sports at a competitive level when possible for Volleyball, Basketball, Softball, and Golf. Kelci is also currently working on her Masters in Educational Leadership through the University of Calgary.
Over the past five years at LCHS, Kelci has coached Senior and Junior Girls Basketball and continues to coach the Senior Girls Volleyball team. Before working in LPSD, she also coached badminton and helped to coach her previous volleyball team to a provincial silver medal. Teaching the fundamentals of sports, developing skills, highlighting the benefits of teamwork, and assisting athletes to reach their potential are a few of the aspects that she is looking forward to in her new role. 
Program Fee Structure
The 2022-23 tuition is $700.00 ( $50.00 payable monthly)
Applications open Monday, April 11, 20221.  A non-refundable deposit of $200 is required with registration. We anticipate a full Sports Academy Program for the 2022-23 school year, be sure to apply soon.
Athletes will receive branded LPSD and Hoop Factory Sports Academy Practice Gear.
Program Structure
LPSD Sports Academy is available for students in grades 5-8 from across the division.
Grade 5 & 6 Sessions: Tuesday and Thursday from 2:15 - 3:30 pm.
Grades 7 & 8 Sessions: Monday and Wednesday from 2:15 - 3:30 pm. 
Maximum of 35 students per group.
Other details include:
The Sports Academy will conduct all sessions at Hoop Factory
Transportation from each school to hoop Facotry will be provided
Parents will be required to pick up their child from Hoop Factory at 3:30 pm
A Certified Teacher will accompany and support the learning of all student groups 
Program content
Students will be exposed to all curricular outcomes in Physical Education through various Academy activities.
The sessions will be directly in line with Canada's LTAD for Grades 5-8.
Elite coaches will plan, instruct and assess students on skill development in Volleyball, Basketball, Badminton, and Track & Field.
The focus for the sessions will be on Movement Skills, Basketball Skills, Individual Skills, Multiplayer Skills, and the acquisition of creative skills.
With two sessions per week for each group, students will receive roughly over 100 hours of on floor elite coaching and skill development
Not all sessions will be strictly tied to the court.  Some training will feature multi-sport cross-over sessions, film study, goal setting, nutrition tips and more.
Program Evaluation
As with all LPSD programs, the Sports Academy will be reviewed periodically to ensure that it is supporting the Division Mission, Vision, and Values for all students, academy or otherwise.
About Hoop Factory
Hoop Factory is located at 1221 50 Ave, Lloydminster, Saskatchewan.
Hoop Factory is an 8000 square foot building, renovated and retrofitted with the following sports amenities:
1 full-length FIBA Basketball court
2 youth size cross basketball courts
2 regulation size volleyball courts
6 basketball hoops at any time
2 score clocks and 2 shot clocks
Hoop Factory is owned and Operated by Golden Ticket Sports.
Golden Ticket Sports Inc. is a relationship-based company that specializes in player, coach, official, and multi-sport events. Golden Ticket Sports prides itself on being the most organized, well communicated, and well-planned sporting event company. We work with corporate clients, clubs, coaches, and members of sports from around the world.