Interested in Art Academy? 
We believe art drives a passion for learning and leading. The LPSD Art Academy was created because there are multiple avenues for students to access sports but art education is limited and not readily available. Students will be provided with the opportunity to learn and grow within the confines of art.
LPSD Art Academy Program opens applications for the 2022-23 school year on Monday, April 11, 2022. The program will offer 2 classes per week in order to inspire students to utilize self-expression to create multi-mediums of art.
The program will provide students from Grades 6-8 from across the Division the opportunity to participate in an enhanced art education program focusing on a variety of types and mediums of art. Helping students engage in their schoolwork while pursuing their passion is a model we are proud to offer within our Division.
The annual tuition fee for Art Academy for the 2022-23 school year is $700.
Questions
For further information please call (780) 875-5541 and review our Brochure.
Online Application
Applications open Monday, April 11, 2022
Brandi Hofer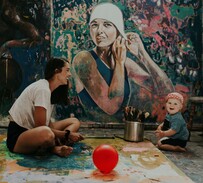 Brandi Hofer - Artist in Residence 
Since becoming a mother in 2014 Hofer has been involving her children in her painting process, creating a 44-piece series with her first son and will soon be launching a new collection this spring. Brandi continues to be extremely prolific with her 3 little boys at her in-home studio, creating several bodies of self-motivated artwork. Hofer's experience includes curation, custom commissioned pieces, stunning large-scale interior/exterior murals, prints, custom artwork, and working with designers.
Hofer is a well collected Canadian Artist, exhibiting internationally and across North America. Her main focus is figurative, abstract and portraiture painting, she explores themes of empowerment, positivity, love, and inclusion. She has taken on in stride large-scale exterior murals, her next project being 135 x 14ft, writing her first book, and art education locally under her umbrella as part of her ever-expanding brand. The release of her first book Colour Me Happy! See your everyday ordinary as extraordinary" is set for April 2022. Her podcast Colour Me Happy! has garnered attention as one of the best art podcasts to binge this season by Create Magazine!
Her work has been featured on national television and can be found in international publications. She has experience in creating custom artworks for designers and translates her artwork into large-scale murals. Hofer has attended residencies at Red Deer College, Toronto Island, the Marnay Art Centre outside of Paris France, and Montreal, Quebec. You can listen to her interview about her life and process on several podcast platforms. Her work has appeared in HGTV's House of Bryan and featured in a General Motors commercial. Most recently she and her family have partnered with a HUGE brand for an international commercial for Walmart, where they feature her studio practice!  Currently, she was featured by Create Magazine in their article 28 Contemporary Artists You Need To Know About. Her new Colour Me Happy Podcast was named one of the Best Contemporary Art Podcasts To Binge This Season!
Brandi Hofer's studio where she works and creates is located in the Canadian prairies. Hofer studied in Red Deer, Alberta, at Red Deer College from 2004 - 2006 before transferring to the Nova Scotia College of Art & Design in Halifax, where she completed her Bachelor of Fine Arts in 2008. She has been ambitiously pursuing her career upon attaining her BFA degree.
Program Fee Structure
The 2022-23 tuition is $700 per year (payable monthly)
Applications open Monday, April 11, 2022. A non-refundable deposit of $200 is required once your application has been accepted. 
The Art Academy program is offered every Tuesday and Thursday from 2:00 - 3:30 pm and is offered to all schools across the Division for Grades 6-8. The program will be hosted at the College Park school.
Program Structure
LPSD Art Academy creates an environment for students to shine outside of sports and academics. Students are able to explore various contexts of art in goal setting for future classes and careers. Other benefits include:
Supports brain development and emotional intelligence
Certified Teachers accompany and support the learning of all student groups who participate in the Academy
Time for the Academy will replace instruction time typically received
Program content
Students will be exposed to all curricular outcomes in Art Education through various Academy activities
Certified teachers, along with Academy staff will plan, instruct, and assess students on the required outcomes
Transportation
Transportation is provided for students from the Academy school to the Academy venue.
At the end of each Academy day, students are dismissed to parents from the Academy venue.
Program Evaluation
As with all LPSD programs, the Sports Academy will be reviewed periodically to ensure that it is supporting the Division Mission, Vision, and Values for all students, academy or otherwise.