2022 COVID-19 Summary of Daily Cases
Safe School Plan 2021-22
At LPSD, the health and safety of our staff and students are our top priority. As we navigate the COVID-19 pandemic we are committed to communicating the most up-to-date information to our staff and families.
LPSD is excited to welcome back our students and staff this fall.  View our Safe School Plan 2021-22 for how we plan to keep safety and wellness a priority. 
LPSD will continue to use direction from the Ministry of Health and Education. 
LPSD Safe Schools plan is dated September 1, 2021. 
Child Daily Self-Assessment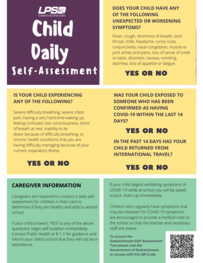 Caregivers are required to conduct a daily self-assessment for children in their care to determine if they are healthy and able to attend school.
If your child answers "YES" to any of the above questions, begin self-isolation immediately. Contact Public Health at 8-1-1 for guidance and inform your child's school that they will not be in attendance.
If your child begins exhibiting symptoms of COVID-19 while at school you will be asked to pick  them up immediately.
Children who regularly have symptoms that may be mistaken for COVID-19 symptoms are encouraged to provide a medical note to the school so that the teacher and necessary staff are aware.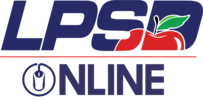 LPSD has created a reopening school plan that aligns and follows the mandates from the Saskatchewan Ministry of Health and the Saskatchewan Ministry of Education. This plan has placed an emphasis on student and staff safety.
If after reviewing our plan, you require an alternative for your child(ren), we have a remote learning option. 
Remote learning looks like this:
Virtual delivery of Saskatchewan curriculum K-12
Teacher delivery of content (lessons, tasks, projects)
Teacher assessment and report card
Ongoing student support and feedback
Technology-based or paper-based learning (no face to face in person)
Teacher communication with both the student and parents
If you would like to register your child for remote learning, please call the Division office at 780-875-5541 or by registering them online.
LPSD Return to School Video
REOPENING LPSD SCHOOLS PLAN - FAQs
Q: When is the first day of school?
A: On August 17th, the Government of Saskatchewan announced that the first day back for students was pushed back to the Tuesday after Labour Day, September 8th. LPSD staff and teachers will use the additional time September 1-4th to engage in staff training to prepare for re-entry of students.
Q: Who is required to wear a mask and when?
A: Staff and Students Gr. 4 to 12 are required to wear masks.  Masks should be worn where physical distancing is not possible.  This means masks must be worn upon entry to or exit from the school, in classrooms, hallways or common areas.  However, students and staff may remove their masks once they are seated in their classroom and engaged in individual work. All LPSD students who require transportation, regardless of age will be required to wear a face mask while on the school bus.
Q: If a child becomes ill at school, what is the protocol?
A: The student will be brought to the isolation room, parents/guardians will be notified and asked to pick up the student at their earliest convenience and Public Health will be called to follow up and give further direction.  Once a student leaves the isolation room, caretaking staff will be notified and the room will then be cleaned and sanitized immediately.
Q: What if my child has chronic symptoms?
A: It is recommended that any child who suffers from seasonal allergies or chronic conditions such as runny eyes or a runny nose should also seek out being tested prior to the start of school.  Assuming the student has a negative result, their current health becomes the baseline from which we would measure a change in health and therefore the need to be sent home from school and pursue testing.
Q: When will more information on staggered entry and exit times be released?
A: School Administration is hard at work finalizing school specific plans and details will be shared with parents the by August 26th.
Q: Will masks be provided?
A: Yes two reusable cloth face masks will be supplied on the first day of school.  Disposable masks will be available for guests and when needed.
Q: Will some students be exempt from wearing masks? and if so will they remain in the classroom?
A: Students who require a medical exemption from wearing a mask may make an application to the school principal to do so. Students exempt from masking will not be segregated but instead asked to self-monitor and diligently practice respiratory hygiene.
Q: Can students wear neck gaiters or bandannas?
A: Under the recommendation of the Saskatchewan Response and Planning Team bandannas and neck gaiters will not be approved as face coverings for students and staff.  LPSD will be supplying two reusable masks to students on the first day of school and the Saskatchewan Ministry of Education will also be supplying disposable masks for use at schools. 
Q: Will there be temperature checking of students upon entering the at school?
A: At this time there will not be any broad thermal checking.
Q: Will emergency procedures change to accommodate COVID precautions?
A: All schools will review their emergency protocols (fire drills, lock downs, etc) and make accommodations where possible to adhere to COVID-19 safety precautions, these amendments will be communicated with students and staff.
Q: Will there be field trips this year?
A: At present, all field trips requiring group transportation will be cancelled.  Out of province and international trips are cancelled for the 2020/21 school year.
Q: Will there be increased cleaning and sanitization at the schools?
A: Yes, LPSD schools will be cleaned and disinfected following an enhanced cleaning procedure and adhering to provincial sanitization expectations. Caretaking schedules will be adjusted to meet these enhanced requirements, including an addition of 150+hrs of caretaking time across the division.
Q: What options are available at school for hand hygiene?
A: Hand Sanitizer will be available at entrances, exits, classrooms and high touch equipment areas. Hand washing will be encouraged where possible. Proper hand hygiene reminders and education to take place.
Q: What should students bring to school?
A: Students should bring minimal supplies with plans to keep everything in their backpack. Hallway lockers will not be available, direction on where to store jackets and outdoor wear will come from the teacher/school as classroom storage varies. 
Q: Will Student supports still be accessible for students that require: Speech therapists, Occupational Therapist, ESTs, Counsellors or EAs?
A: Yes, though precautions will be in place.
Remote Learning FAQS:
 Q: If my child starts the year in the classroom, are they able to switch to remote learning if required?
A: Yes, if a shift to the remote learning option is required it can be arranged. Pre-registration is open until August 24th and will be used as a starting point for scheduling and organization. Parents can continue to register after August 24th.
Q:  I registered my child for the remote learning option, now what?
A: An LPSD staff member will be reaching out the week of September 1st with further details.
Q: What is the daily time commitment with the remote learning option?
A: The remote learning day will not mirror that of a traditional school day. Assignments will be given out for the week, with opportunities to connect with teachers. It is designed to be flexible.
Q: What does the structure of the remote learning option look like in Elementary?
A: Remote learning for elementary students will consist of:
Flexible learning environment
Print based work that gets scanned or dropped off to teacher
Instructional videos to support
Teacher directed lessons and support
Q: What does the structure of the remote learning option look like in Middle School?
A: Remote learning for Middle school students will consist of:
Weekly class meeting
Small skill sessions in groups once a week
Guided timeline for entire class
Student work is submitted directly to Moodle platform
Q: What does the structure of the remote learning option look like in High School?
A: Remote learning for High school students will consist of:
Academic advisors to ensure students are signed up for the right classes
Focus on core classes
Weekly meetings and assignments
Tutorials and videos available as well as teacher support.
RESOURCES FOR FAMILIES
How to Talk to Your Child
Stress and Anxiety
Mental Health and Wellness
Resiliency
COVID-19 Health Resources:
Self-assessment tools:
If You Need Immediate Support
Other Resources
REOPENING LPSD SCHOOLS PLAN - INFOGRAPHICS



More information