February 2022 Updates
January 2022 Updates
Safe School Plan 2021-22
At LPSD, the health and safety of our staff and students are our top priority. As we navigate the COVID-19 pandemic we are committed to communicating the most up-to-date information to our staff and families.
LPSD is excited to welcome back our students and staff this fall.  View our Safe School Plan 2021-22 for how we plan to keep safety and wellness a priority. 
LPSD will continue to use direction from the Ministry of Health and Education. 
Child Daily Self-Assessment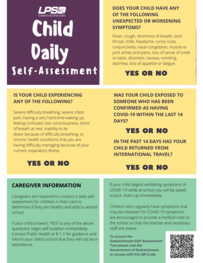 Caregivers are required to conduct a daily self-assessment for children in their care to determine if they are healthy and able to attend school.
If your child answers "YES" to any of the above questions, begin self-isolation immediately. Contact Public Health at 8-1-1 for guidance and inform your child's school that they will not be in attendance.
If your child begins exhibiting symptoms of COVID-19 while at school you will be asked to pick  them up immediately.
Children who regularly have symptoms that may be mistaken for COVID-19 symptoms are encouraged to provide a medical note to the school so that the teacher and necessary staff are aware.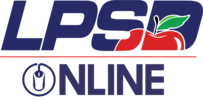 LPSD has created a reopening school plan that aligns and follows the mandates from the Saskatchewan Ministry of Health and the Saskatchewan Ministry of Education. This plan has placed an emphasis on student and staff safety.
If after reviewing our plan, you require an alternative for your child(ren), we have a remote learning option. 
Remote learning looks like this:
Virtual delivery of Saskatchewan curriculum K-12
Teacher delivery of content (lessons, tasks, projects)
Teacher assessment and report card
Ongoing student support and feedback
Technology-based or paper-based learning (no face to face in person)
Teacher communication with both the student and parents
If you would like to register your child for remote learning, please call the Division office at 780-875-5541 or by registering them online.
Resources for Families
How to Talk to Your Child
Stress and Anxiety
Mental Health and Wellness
Resiliency
COVID-19 Health Resources:
Self-assessment tools:
If You Need Immediate Support
Other Resources
LPSD Return to School Video
REOPENING LPSD SCHOOLS PLAN - INFOGRAPHICS



More information